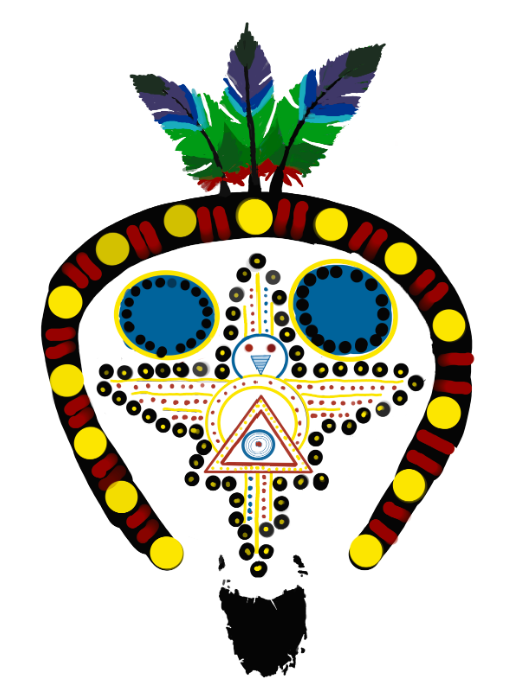 Acknowledgement of Country:
We acknowledge the Tasmanian Aboriginal Community as the traditional and continuing custodians of Lutruwita, where Palawa have cared for their children and prepared them for life since the beginning of time.
Together we live, work, play and learn on what always was, and always will be, Aboriginal land.
We honour Elders, past and present, and pay our respects to all Aboriginal and Torres Strait Islander colleagues, families and friends.
We commit to ensuring every Aboriginal and Torres Strait Islander child and young person is known, safe, well and learning.
Interpretation of the artwork by the artist
The artwork by Tasmanian Pallawah Aboriginal artist Andrew Mansell centres on the importance of the community of the swift parrot and its country.
---
"The image of the bird is the story of the community of the swift parrot. It shows the connection between the bird and the tree at its centre.
The tree represents the mother of the swift parrot. Without the tree, the swift parrot has no home. The tree gives up a limb to provide a home for the swift parrot, showing its maternal love and connection to the bird.
The triangle represents our cultural fires and its connection to the tree and Aboriginal people as an integral component of that country. The fire is masculine and always reaching up. The sun around the fire is the father providing warmth and sending out its rays.
The head is the moon which represents the mother to Aboriginal people and her gentle guiding light. The beak is water and the feminine coming down to meet the fire.
The eyes represent the two ancestral beings Pumpermehowlle and Pineterrinner.
The importance is, if you understand the connections and the necessity to protect the tree,
the swift parrot will bounce back from the brink of extinction. Ignore our knowledge and you will miss the opportunity to save him.
The ancestral creator beings look on eager to help and eager to teach all who will listen.
Just as in a child's life, those who nurture and care for us most are home and are necessary components for a healthy and safe, well-balanced individual and community."
---
This art is designed to be drawn in the sand, with a design and message children and young people can learn and carry forward with them, passing on the important story of the swift parrot and its community into the future.
Andrew Mansell – Pallawah Aboriginal Artist